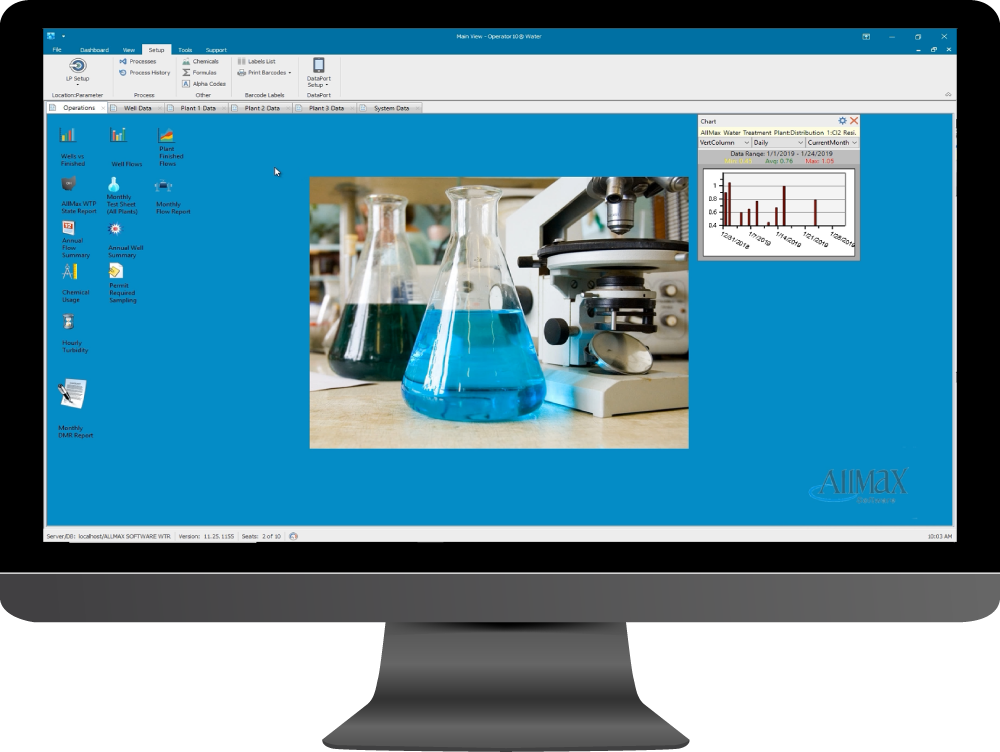 Control and protect your data with Operator10.
Your critical water data is a precious resource! You're in control of your data with Operator10.
Operator10 provides data storage and processing solutions for managing large volumes of water-related information, and provides an historic picture of the operation of your plant through centralized storage of data.  Other benefits include: accessibility, security, stability; reduced errors and duplicated effort; flexibility in sorting and calculating; standardized and centralized data repository; and you own and control your data!
Centralize your Operational Data
There are a lot of moving parts involved in operating a water treatment facility, and your operational data can come from a variety of different sources – leaving you with multiple databases and software applications housing the data you need to analyze your plant efficiency and to generate your regulatory reports.
Operator10 is designed to be a centralized database solution to manage all your operations data – with features that make data entry into Operator10 quick and easy.  DataView data entry screens allow for manual data entry and review; Sampling Events provide a place to store extra information associated with lab results; and OPC/DDE Interface and Historian Interface offer options to automate collection of your SCADA data.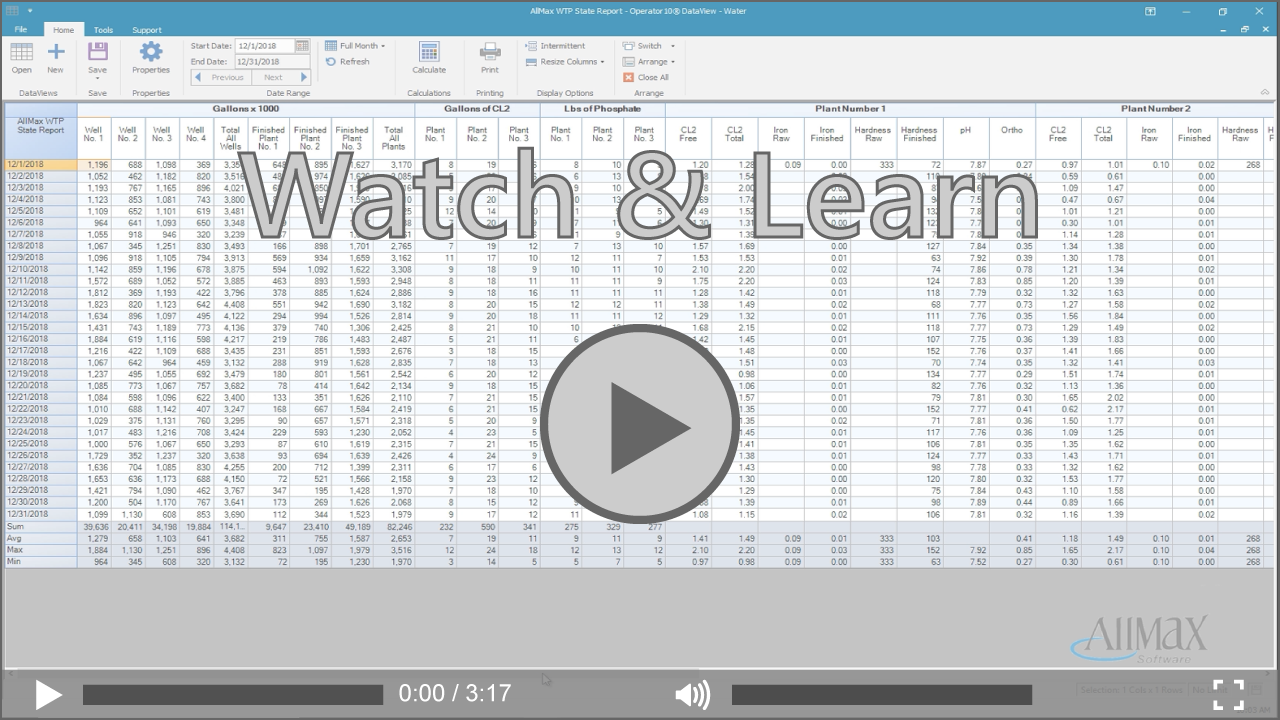 Highlights
- DataViews provide a window into your database and make data entry easy.
- Sampling Events track details associated with lab results.
- OPC/DDE Interface to SCADA can collect data from your SCADA tags.
- Historian Interface connects to your SCADA Historian as another option to bring in SCADA values.
Spot Trends Easily with Charts
Operator10 Charts present your operational data in a visually impactful way.  When you're looking for correlations between different parameters, a chart can quickly reveal connections.  Or, if you need to create a presentation for stakeholders, charts can add punch to your message.
In Operator10, a full-featured 3-D charting package allows unlimited series to be displayed on a single chart. Users may switch between types of charts: daily, monthly and yearly, without creating a new chart. Many options are available for each chart, including calculated values, trend lines, and full customization.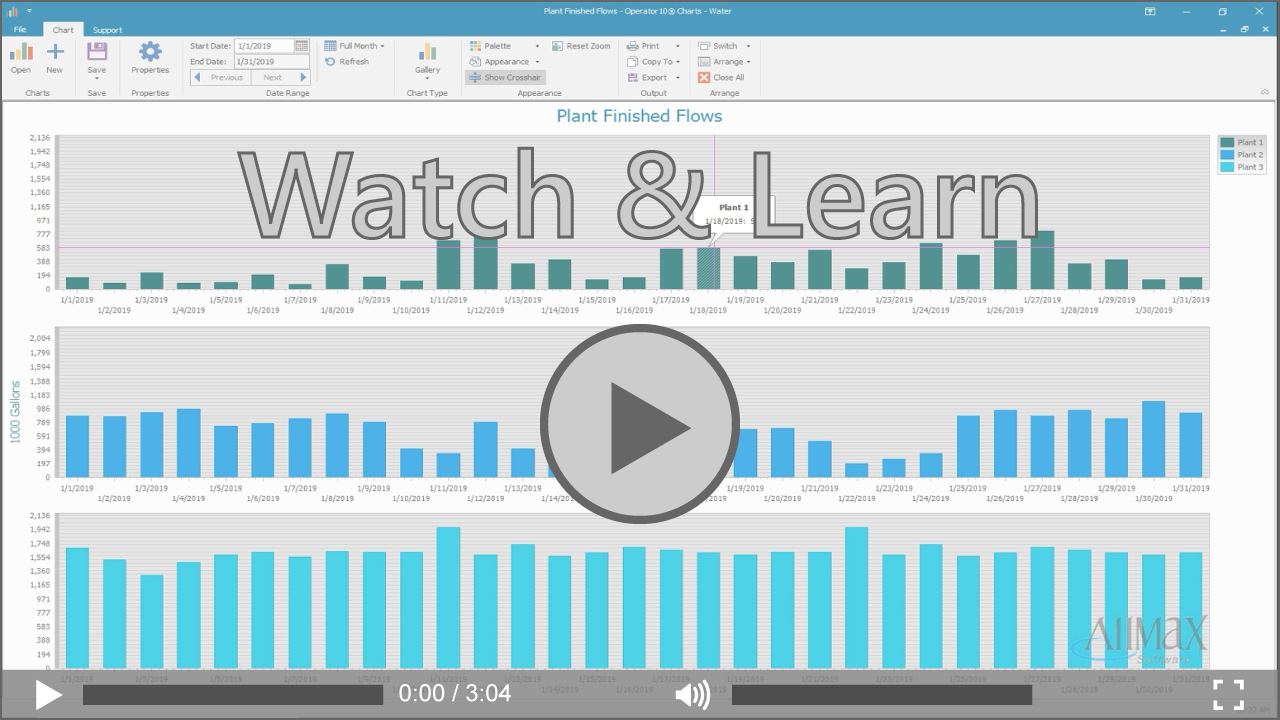 Highlights
- Create visual impact with charts, or use them to aid in data analysis and trending.
- Fully customizable charts let you create the look you want and present the data you need to see.
- Set constant lines, linear regression, use formulas and more.
Reporting
Numerous State forms are available for reporting. Additional forms are regularly being developed to satisfy the reporting requirements of specific states. Multiple year and 5-year reports are available to satisfy specific reporting requirements. Mass Balance Report provides monthly summary information for loading and distribution of solids. Limit reports can be printed to verify entered data and calculated data against limits before submitting the completed state forms.
Reports are created using a form editor and have built-in calculations. No additional custom formulas are needed.
Built-in and custom formulas can be selected from drop-down lists, and permit limits can be entered so that exceptions can be calculated. Alternate text can be entered and printed when no data exists or when the reported value is less than the defined value.
In addition to printed reports, data can be prepared in an electronic format suitable for uploading to state and federal agencies/authorities, such as  XML, ASCII text or other formats.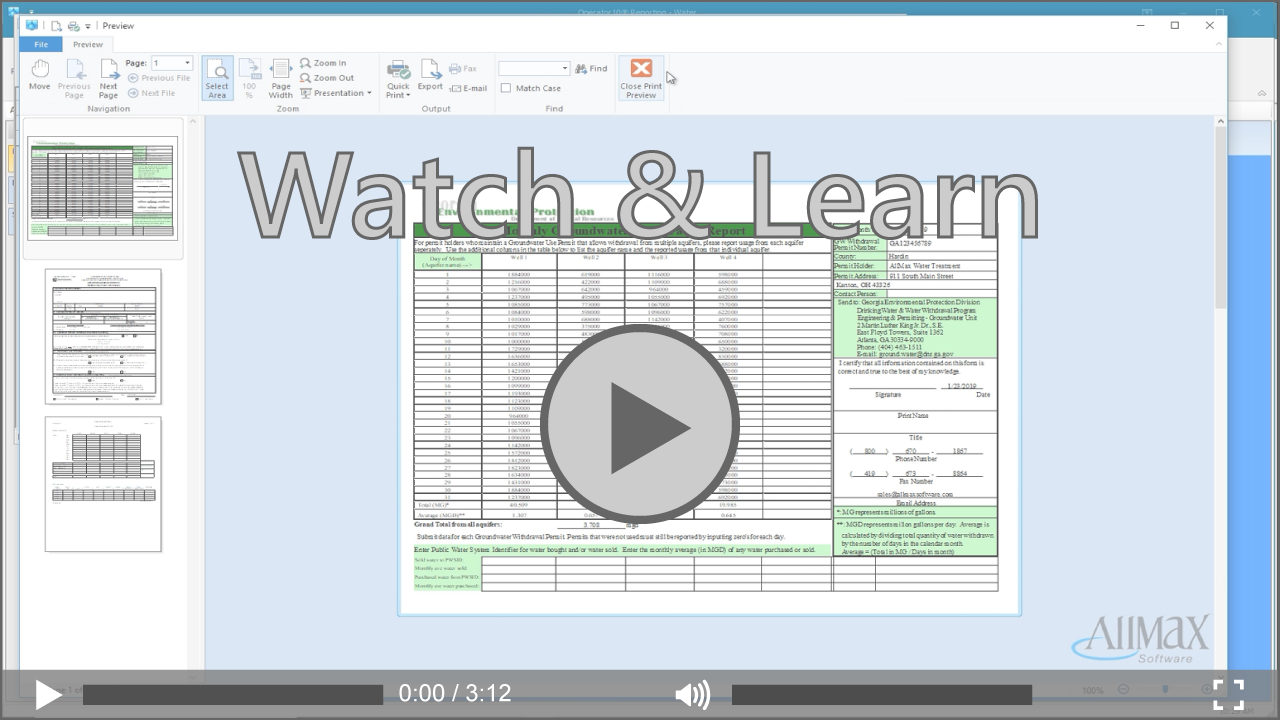 Highlights
- Create regulatory and management reports using built-in report forms, including regulatory reports for many states.
- Populate reports with data stored in Operator10, use report formulas to calculate results and enter permit limits to calculate exceptions.
- Export of XML data is supported for use in electronic report submittal.
Want to learn more about Operator10 water data management software?
Submit the form below to request more information or to schedule a demo!
Want to learn more about Operator10 water data management software?
Submit the form below to request more information or to schedule a demo!